Student Symptom Decision Tree

Staff Return to Work Decision Tree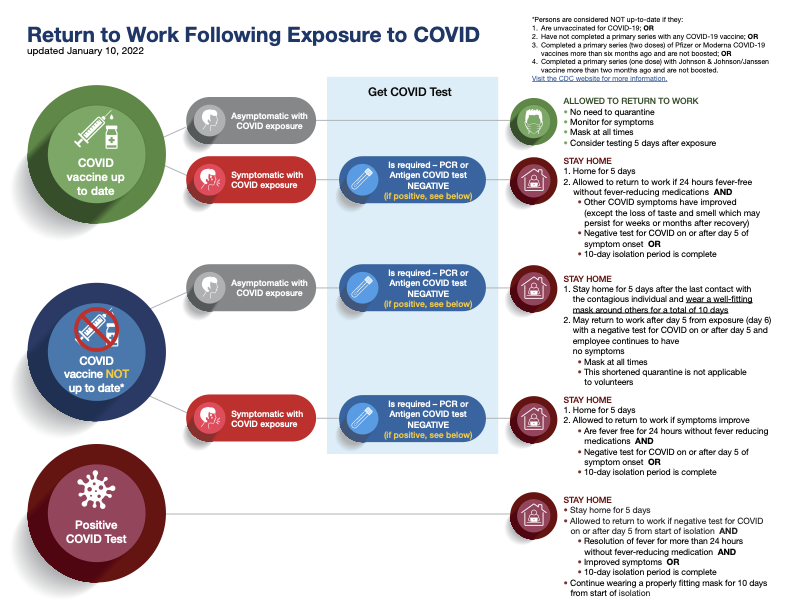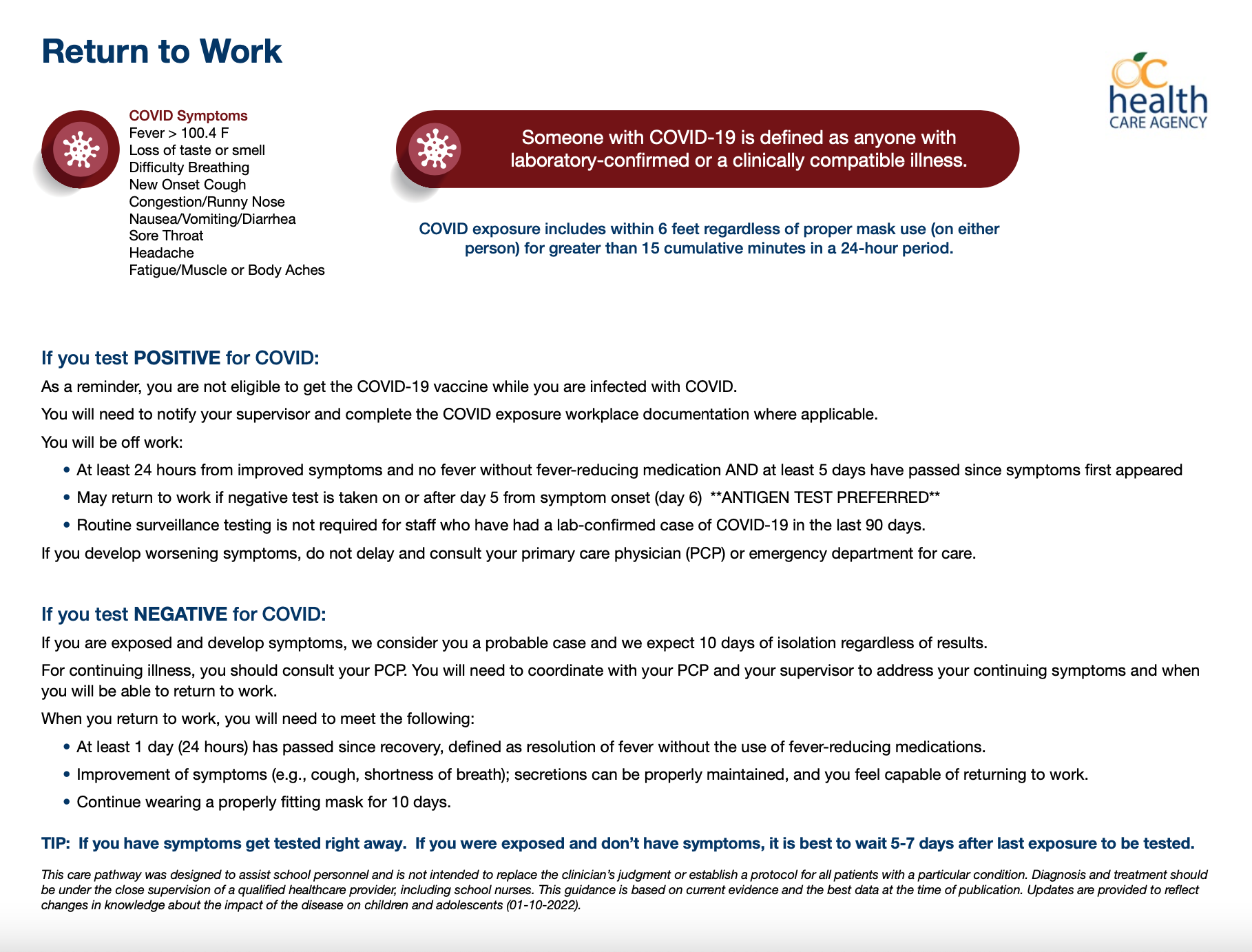 Testing and Vaccination Resources
Order a Free At-Home Test Kit
If you would like a test kit, the OC Health Agency will provide you with a free test kit from Ambry Genetics. You can request a test kit online at this link: https://oc.care.ambrygen.com/#/cit/landing. Select "County Resident" (Do not select School) and provide the information of where to send the kit.
Here is some information on the kits:
Order self-collection test kits by clicking on the link above.
You must have an email account to request a kit. You will need to provide an email address for each individual test kit ordered. The email address facilitates test results.
Self-collection test kits are available at no cost for individuals who live or work in Orange County. The kits may be delivered to OC Zip codes only.
Home delivery test kits include prepaid return shipping.
Orders will be fulfilled within 24-48 hours, depending on the time your order is placed. Holidays may also affect shipping times.
Failure to register, collect and send in your sample within a reasonable time may void your test kit.
To find a FedEx drop-off location, visit https://www.fedex.com/en-us/shipping/dropbox.html or call (800) 463-3339 to schedule a pickup.
Find a Lab Test
The State of California maintains a list of testing locations. You can visit their website to search for a testing location near you. Please check with your insurance provider regarding your coverage for lab tests.
California How to Get Tested Website
Get a Vaccination against COVID-19
The Orange County Health Care Agency maintains a website with up-to-date information on vaccine availability. OCASA does not require vaccinations for students. Vaccinations are not available at any OCASA Campus.
COVID-19 Frequently Asked Questions
Are vaccinations required for students at OCASA? Will you vaccinate my student at school?
OCASA does not require vaccinations for students. OCASA does not have an on-campus vaccination program.
Are COVID-19 tests required for students at OCASA? Will you test my child at school?
OCASA does not require a COVID-19 test for students to attend school unless directed by our School Nurse. While we do have a limited supply of test kits on campus, no student will be tested without parental consent.
Is my child's teacher vaccinated against COVID-19?
OCASA does not disclose the health status of any individual in our community. However, all staff at OCASA are either vaccinated or undergo weekly COVID-19 tests.
Do you require my student to wear a mask on campus?
Yes, per health department regulations all individuals at OCASA must wear a mask while they are indoors at either OCASA campus.
What are my options if I do not want my student on campus? What are my options if my child is asked to stay home by the School Nurse?
You may request that your child be put on an independent study agreement by contacting Mission Control at either campus. Please note, independent study is not the same as distance learning. Students on independent study complete work on their own at home with very little interaction with teachers and staff. Unfortunately, the State of California has removed all schools' ability to offer distance learning.